---
---
ALASKA FISHING
   In Alaska we specialize in Guiding Anglers on the Kenai Peninsula  for Four Species of  Pacific Salmon including Worldclass, Trophy- KingSalmon, (20-70lbs or more)  Acrobatic -Silver Salmon, (6-20lbs) Line Burning -Sockeye Salmon  (4-12lbs) and Aggresive-Arm Tiring -Catch Fish Till You Drop -Pink Salmon (3-10lbs)
                                            KENAI RIVER WILD RAINBOW TROUT

The WILD Trout Fishing on The Middle Kenai River is home to some of the Finest  Wild Rainbow Trout fishing in the World (2- 25lbs ) with Trophy Class Dolly Varden Char  (1-10lbs) as a bonus. (both are catch & release)
 We also fish many Beautiful Glacial area Lakes for Big Lake Trout.
 And salt water trips in ALASKA'S Cook Inlet for Trophy King Salmon  and Giant Pacific Halibut.
    At  Fishtales Guide.Com   We fish  for what  You want to catch
and  Take You to the Best Fishing !!
  We keep our fishing options open.
 One of the greatest attributes of Fishtales is the ability to be versatile. Many other Kenai Area fishing guides and outfitters only offer a single choice each day, no matter what the recent fishing report might be. If a river is blown out and muddy, You probably don't want to dish out your hard earned money to go on a boat ride in bad river conditions. 
At Fishtales we keep our options open and take you where the fish are and river conditions are best to catch them.
 All  Fishtales charters are Full day tripsto ensure the Quality and Success of your fishing experience.

Salmon love our Bait.  Our Baits are some of finest on the river. These Baits have been developed over many years,and are constantly being upgraded and proven OUR BAIT GETS BIT!!
 Our Alaska Fishing Season  -  Starts - May 1st. (When the ice has cleared from the Rivers and Cook Inlet.) and - Concludes - October 31st. (The snow and ice soon returns to the Rivers.)
  All Top Quality Rods and Reels, Bait,  Lures and Tackle are provided for your sucessful Alaskan Fishing Adventure.
 Your Catch will be cleaned or fileted and bagged at the end of your trip. Multi-day trips get full fish processing.(cutting - wrapping and freezing.)
 
  ALL Our Guide Boats are clean, comfortable and and well maintained and U.S.Coast Guard Inspected each season for meeting all safety requirements.
  Drift Boat(Oar powered) style fishing as required by Alaska State Parks Regulations, for the Kasilof River located approx.30 minutes south of the Kenai River.Fishing is done from our Fish-Rite Custom 19 ft. Drift Boat with comfortable seating for up to 4 anglers. This is quiet and relaxed fishing. We slowly fish our way downstream with only Tom pulling smoothly on the oars to expertly position the boat into the best prime water to intercept the Salmon coming in fresh from Cook Inlets Salt Water.
  Power Boating is the best way to pursue fish on the mighty Kenai River as it is a big and powerful river.Our Power Boat lets us go downstream to meet the incoming shot of Salmon. At the start of the flood tide, the Salmon ride upstream into the river on the high tide.(Alaska's Cook Inlet is home to to the second largest tides in the world.A large tide of 24ft.or larger can back water 15 miles up the Kenai River) Then as the Salmon move upstream we can follow them and intercept them again further up the river.
Our Alaskan Power Boat is a 21ft. Koffler  Whitewater Sled set up for shallow water running to get us to the best fishing,it provides fishing comfort for up to 5 anglers.
  The Methods  to pursue these different species of Salmon, Trout and Steelhead are many including  Plug Pulling, Bait Divers,  Boondogging,  Still Fishing,  Back Bouncing,  Free Drifting,  Side Drifting,  Suspended,  Bobber,  Jigging, Trolling,  Down Hill Trolling,  Casting Lures,  Mooching and  Power Mooching. This just covers the Salmon Species.
You can rest assured that Tom knows and uses each and every Method  and Trick to make them Bite !!
TIMING OF KENAI PENINSULA'S BEST FISHING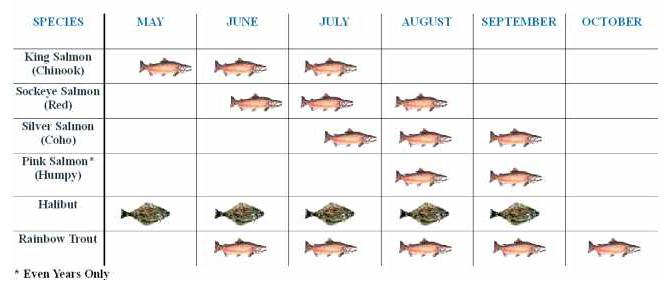 ---
313 Dolly Varden St. Kenai, Alaska 99611
907-283-5852
Email - fishtalesguide@gmail.com